培养基名称:
构巢曲霉基础培养基
英文名称:

Aspergillus Nidulans Minimal Medium

培养基类型:
基础培养基
产品目录号:
M717-01
产品规格:

500g 请联系我们

保存条件:
避光,密封,阴凉干燥处保存。
产品性状:

浅黄色粉末。
凝胶接近无色,透明至半透明。

注意事项:
避免摄入、呼入、皮肤接触。配制时在 通风橱中进行,戴口罩、手套、护 目镜。
相关产品:

ATCC Medium 687
曲霉培养基(Pontecorvo)
改良察氏琼脂
---
产品描述:
构巢曲霉基础培养基是一种基础培养基,用于培养构巢曲霉。


构巢曲霉曾作为曲霉属的模式菌种,用于遗传学和细胞生物学的研究。
---
构巢曲霉基础培养基的配方与配制方法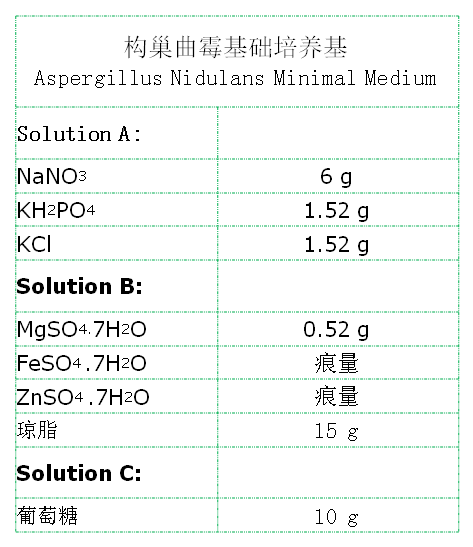 配制方法:

1. 称取Solution A配方中的成分,加500ml去离子水溶解,用2M NaOH溶液条件pH至6.5。

2. 称取Solution B配方中的成分,加250ml去离子水, 加热溶解。

3. 称取Solution C配方中的成分,加200ml去离子水溶解。

4. A,B,C分别灭菌,121°C高温蒸汽灭菌15min。待冷却至55°C左右时混合后倒平板。

---
构巢曲霉基础培养基的使用方法
构巢曲霉在构巢曲霉基础培养基上的菌落形态如下图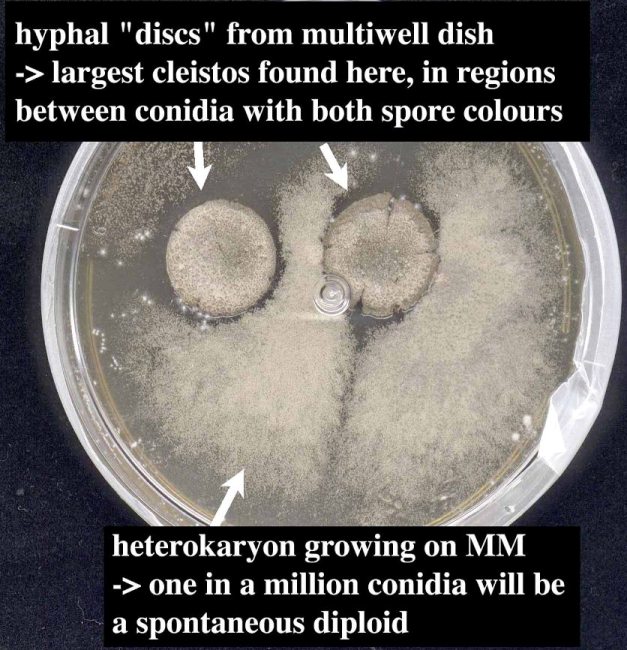 构巢曲霉分生孢子的培养和保菌方法

A. nidulans conidia germinate in defined (MM) or complex (e.g. CM and 5YEG) media, plus appropriate nutritional supplements for auxotrophic strains. See recipes below for details. Wildtype germination is best between 28℃and 37℃, range 2℃to 48℃. Some strains are temperature (heat) or cold sensitive. Germination is faster on complex than minimal media, and is favored by high inoculum levels. This is noteworthy when preparing protoplasts for transformation: a billion conidia germinate in 4-7 hours (strain and condition dependent) in 50 ml of liquid medium, but can take twice as long in 250 ml of medium. Monitoring germination shows that the conidia clump 30-60 minutes before producing a germ tube. Similarly on agar plates, clumps of conidia germinate and grow faster than isolated ones.

A. nidulans ascospores typically require 2-3 days to germinate in the same conditions as conidia, and do not require special induction. Ascospores remain viable for several years in water at 4℃. Ascospore protocols are described in the section on mating.

Harvesting A. nidulans conidia is best done in still air, not in a flow hood or a fume hood, because the spores are readily dispersed by air currents. Equally important, opening or closing a Petri plate creates turbulence within and should be done carefully and as seldom as possible. We leave plates open for extended periods while replica plating individual colonies with toothpicks. If contamination from lab air is a problem, air cleaners that have HEPA filters will make a noticeable improvement over a few weeks, and are widely available.

A. nidulans conidia are harvested in water (by rubbing the surface of a conidiating culture with a sterile bent glass rod to dislodge the spores) and can be stored for weeks to months at 4℃ without a serious loss of viability. However, freshly harvested spores germinate more reproducibly. For long-term storage, spores can be stored in 50% glycerol at -20℃, or in 15-20% glycerol at -80℃. Glycerol is more easily pipetted as an 80% solution in water. 800μl of aqueous conidial suspension (as made for 4℃ storage) added to 200μl 80% glycerol is used for a -80℃ stock; 400 μl suspension added to 600 μl 80% glycerol is used for a -20℃ stock. Vortex before freezing. For mutant collections, small pieces of conidiating cultures can be excised and placed in 20% glycerol, vortexed, and frozen as -80℃ stocks.

A. nidulans conidia can be adsorbed onto sterile dry silica gel by making a spore suspension in sterile 4% non-fat milk, adding about 1 ml of spore suspension to 10 ml silica, shaking vigorously, and cooling in an ice bath (this process is exothermic). The silica should appear dry within a few hours. Conidia will remain viable for several years at room temperature or longer at 4℃. Cultures on agar plates that dry slowly at 4℃ also have viable conidia. Sealing plates with Parafilm before they are completely dry can result in contamination.

For reviving stored cultures, chips of -80℃ medium, or vortexed -20℃ or 4℃ stocks should be streaked for single colonies on appropriate media. Silica stocks are sprinkled onto agar media.